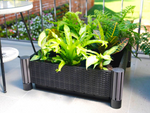 2021 Garden Trends you will want to Know
2020 turned a lot of people towards gardening as a hobby and for some to grow their own veggies. With the uptick in the gardening community in the past year, we are certain there will be a lot of buzz this year from the garden newbies and they will continue their garden journey even after the pandemic is over. We think there will be a few trends that will be noticeable in 2021.
Home grown food: Gardening probably started as a way to kill time in a healthy way while staying at home but for many it is becoming a way of life. People are enjoying growing their veggies, herbs at home along with flowers and greens. This spring and summer will see a burst of home grown veggies and people getting ready for their summer gardens. It doesn't just work for adults but is also a learning and fun activity for children as well. They are able to spend time outside and get some physical activity as well as use all that pent up energy and not be on phones or ipads all day. (We feel you moms and dads.) 
Outdoor zen space: Quarantining has not been easy. Sitting inside looking at the walls  or phones or TV, you can only watch so much Netflix. People are bringing nature to their homes and creating a garden getaway in their backyards, patios. Living walls have been a big hit for our urban dwellers and backyard lovers alike. We have been able to help create their own green space and bring freshness in their homes. Looks like it will only be increasing this year.
Indoor gardening: Since everyone is spending so much time indoors and working from home, people have realised they need some freshness air and green indoors. The indoor air pollution can affect your health and mood in a big way. So there has been a boost in indoor gardening as well and it is here to stay. With or without pandemic houseplants are always a good idea. 
Online shopping and learning from the gardening community: While shopping in store has taken a big hit, online shopping has boomed like never before. People are shopping for their gardening supplies like seeds, soil, planters and even plants, online. Not just that, the gardening influencers have seen a major uptick in their followers and newbie gardeners have been seeking guidance from this community and learning online to grow their garden. Seems like there will be a lot of learning to do this summer and our master gardeners are going to be juggling a lot of questions in their DMs. 
2020 taught us a lot of things but one thing that we need to remember right now is prepping. There was a shortage of seeds and other supplies in 2020 when the gardening trend boomed. So newbie or not, we suggest you start getting your garden ready for the upcoming season and get your seeds and other supplies in order.