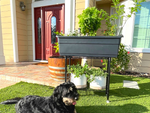 Get Your Indoor Garden ready for Winters
Picking your own vegetables fresh from your garden is a joy known to all gardeners. But what happens when the weather starts to work against your hard work. Winters are almost here and if you haven't prepared to keep getting your fresh supplies, it's time to work on it now. Don't let the cold season freeze your gardening plans.
Watex has perfect solutions for your small space, indoor gardening. Whether you are an urban gardener with limited space or enjoy a huge yard in your suburban home, Watex planters give you the option for all the gardening probabilities. Let the winter gardening begin!
Let's get started with our winter garden ( better late than never) with these beauties and make this winter green.