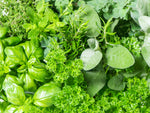 It's summertime, which means it's time for BBQ, beach and being outdoors. It's also time for our plant babies to get hydrated. Plants might enjoy the sun but they also need to get watered regularly, especially when the temperatures are soaring high.
If you are planning to add some more green dose to your garden and are wondering whether to plant or not in this weather, we have a list of few herbs which are versatile and can take the sun.
 1.) Basil: One of the most popular herbs to grow in summer. Basil loves the part sun and a soil bed that drains well. You can add mulch to keep the soil moist. Regular pruning and harvesting help the plant to grow and stay healthy. Being such a versatile herb, you can add it in your summer salads, sandwiches or make pesto for Pasta. Basil tastes best when used fresh, so having a Basil plant at home gives you an unlimited supply of the fresh herb, without the fear of having it go bad.
 Bug-repellent: Another bonus is that basil keeps the mosquitoes, flies, asparagus beetles away, so get to grilling and sit bug-free in your patio.
 2.) Peppermint: Think of this beautiful herb and all that comes to mind is, freshness. A wonderful herb to grow in summer as it takes well to the sun with a well-drained moist soil. Mints are very easy to grow and can spread into other sections of your garden if not planted in a separate area or a planter. Ideally, mint can grow to 1to 2 feet tall. Add it to your salads or make mint lemonade or just add it in your water for a fresh cooling taste.
 Bug-repellent: While we might love mint, ants, mice and cabbage moth don't. Plant it in your garden and be free of these bugs.
 3.) Rosemary: Loves sun and light and a well-drained soil.  A hearty herb that gives your food such a depth of flavor and can be used in your veggies and meats to enhance flavor. Rosemary has a woody steam with pointy thin leaves and grows into a shrub. To contain the growth, a planter would be a good choice if you want to keep the plant small in size. Trim the plant twice in the season to encourage good growth.
 Bug-repellent: Get rid of slugs and snails by planting this wholesome herb in your garden.