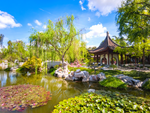 Best Botanical Gardens in US
Long days and sunshine, we are loving the arrival of this beautiful weather. It's no doubt time to dig in your garden but we think, sometimes taking a break and stepping out would be good too. Especially since last year was spent in the four walls of homes for most of the world. While going to the beach and movies would be amazing, we think a little fresh air outdoors would do us all some good.
The gorgeous botanical gardens that our country has, are a sight to behold and a safer option since it is outdoors and not in closed premises. Looking at the beautiful plants and flowers in their full bloom is bound to put a smile on anyone's face. We have made a list of six best botanical gardens in the USA for you. Check it out and maybe take a trip to the one closest to you this summer break. 
The Huntington Japanese Garden, California: It is only right to start with our home state and share with you that So Cal is not just beaches but home to many beautiful gardens. This masterpiece boasts of more than a dozen gardens over 120 acres of land.  The Japanese garden has a collection of Bonsai trees, a pond, a picturesque bridge and a zen garden. If you are interested to know about the local plants, there is one garden with over 50,000 plants that are native to California! This is just the tip of the green dream. 
New York botanical garden, Brooklyn: A favorite among the locals and tourists alike, this 52 acre delight is a dream to look at during the Cherry Blossom festival. Cherry blossoms being the star which attracts millions of people each year, you have Shakespeare garden, Japanese Hill garden, Rose garden and many more to see in this nature's haven.

United States Botanic Garden, Washington, D.C. : The political capital has more to offer than politics and museums. This historical garden is one of the oldest in the country and was established in 1820 by congress. Take a break from the museums and you can enjoy the butterfly garden, edible gardens, Rose garden and 65000 more plants. The garden is smaller compared to many others in the country but it is sitting in history and has seen years of growing and is a welcome break from all the long lines everywhere. 

Chicago Botanic Garden, Illinois: This massive garden is spread across 385 acres with 27 gardens surrounded by lakes. The Bonsai garden with over 200 Bonsai trees is a must see when you visit the windy city! Although the English Walled Garden might transport you to Europe for a bit. The garden is so huge and beautiful that it might take a few days to finish it if at all. 
Missouri Botanical Gardens: One of the oldest continuously running gardens in the country, this beauty was opened in 1859. If you love nature but want to see something out of the usual, then this is your place. Despite the age of the garden, it holds a very modern eye catching piece. Climatron, the geometric glass dome housing a tropical rainforest is hard to miss.From the serene Japanese garden to the gorgeous English Woodland garden, there is much to see and get lost in the green beauty of this historical place.

Denver Botanic Gardens: While you can visit this lovely garden year round but a special trip in winters would make it worthwhile as this garden houses unique high altitude plants and not only from the US but also Europe, Asia and Africa as well. 
It has been a difficult task to select a few of these gorgeous gardens amongst so many others but we did try to shrink it down owing to their uniqueness. Be it these or the multiple other gardens that are all around the country, do visit one of them near to you and let mother nature surprise you and take in the beauty.