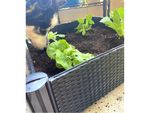 Indoor and Outdoor friendly planters for Spring
The garden is abuzz with activity for many and for a lot almost starting to be. But a lot of times there is a space constraint to growing your favorite plants. Today, we want to share how our planters can give you that ease of growing indoors or in your limited outdoor urban spaces. 
Starting with our favorite urban planter:
Watex Mobile Green Wall: This lovely urban gardeners' favorite planter is perfect for growing your favorite greens and that too so many in one planters. It comes in two sizes, a double frame and a single frame. Double frame gives you 18 pots in 1 planter to grow all the varieties from herbs to salad green to flowers in three different sized pots ranging from small, medium to large. Single frame gives you the same variety of pots but in 11 pots. So you can choose to go big with double and have a whole garden in one planter or start smaller and enjoy stress free gardening. 
Can you grow it indoors? Well yes! The outdoor planter can be turned into an indoor one with just a switch of pots. The outdoor pots have an opening in the bottom to keep the plants from getting excess water. The indoor pots however, have a drainage plug that keeps an excess water contained so it does not spill out of the pot. The indoor pots also come with a moisture gauge for you to understand the watering needs of your plant and when it is dry and it needs water. Both the planters have an irrigation system that can be attached to it for easy watering. Attaching it or not is your choice and preference but it helps in even watering. The benefit of having a vertical garden with wheels is a boon for the urban gardeners who struggle with space and location. With Watex Mobile Green Wall, it makes every gardeners' gardening dream come true. 
Next one is perfect for your urban vegetable patches if the Mobile Green Wall doesn't suit your needs or you want to grow tubers or some other root veggies
Watex Indoor/Outdoor Garden Bed: If the Mobile Green Wall made you think, "Oh,but I wanted to grow more than just salad greens and flowers." This newbie in our collection is probably what you will want. A fuss free, leak free, no mess easy installation solution. Installs in minutes and is a perfect beginner garden. You can teach your children to grow their veggies and it can be their personal growing patch as well. A family garden to say. The reservoir in the bottom of the bed keeps your plant babies hydrated and all the water contained, without making any mess. The base is covered so you don't need to worry about soil spilling around. 
But we are not forgetting our garden lovers who want to create a huge garden bed patch. Our oldie goldie comes to rescue for those.
Watex Modular Raised Garden Beds: The ultimate gardeners' best friend for creating their vegetable garden in their backyards. The rust resistant, made from wood composite material but equally easy to install in minutes without any tools and EXPANDABLE. Yes, you can start with one bed and keep adding more to expand it and make it a big patch or keep the boundaries and just attach separate beds alongside or stack 'em up and make a deep bed. Honestly, it cannot go wrong. It comes with its own irrigation system as well so you just get those beds installed and start your garden in no time and hydration of your plant babies is taken care of. This, unlike its friend above cannot be installed indoors though but makes your gardening equally fruitful! 
These are a few of our customer favorite planters from our collection and have always helped newbies and pros alike to keep their garden thriving. But do take a peek at our other lovely planters ranging from living wall varieties to traveling sprinklers, and make your spring/summer greener!