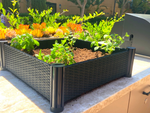 What's growing in your Fall Garden?
There are plenty of cool weather crops that you can plant in later summers to get a good harvest for your early winters. The best way to enjoy the winter crops is to find the ones that mature quickly. So, start clearing your garden of the summer crops to make way for the winter garden.
First thing that you need to do before starting your winter crops is to calculate your first frost date and start working backwards from there. The time the vegetables need to grow and when is the harvest time for each of your greens and keep a buffer of a couple of weeks from the given first frost day as that is an average time given and it can be early. You can find out the first frost for fall from your garden centers nearby for your location or even online.
Let's have a look at the few herbs and vegetables that can add to your winter dinner table recipes.
 1.) Arugula: This beautiful spicy green is quick to mature and can be ready for harvest in as little as 30 to 45 days. A perfect addition to your salads or add for a warm peppery flavor to your soups. Be careful to avoid overly mature leaves in case you are not a fan of bitter taste, which can happen if the plant starts flowering. So, harvesting it a little early will be ideal before the plant matures completely and flowers. Arugula requires full sun to partial shade and germinates within a week. Ideal to grow in containers and loves regular watering. You can pinch the leaves as and when you use and leave the rest to grow, which would be probably early in the season. Another way, is to pull the plant out when you know that you are not going to get any more, which will be the end of the season mostly when the plant starts to flower and bolt.
 2.) Scallions: Another flavorful addition to your salads or soups or garnish on top of fried items or stir fries, the versatility is endless. Scallions are ready to harvest in almost a month when they reach around 4 inches tall. Pulling out the most developed first is ideal, leaving the rest to mature. If you want a deeper flavor, you can leave them to mature for a bit longer. Scallions also known as green onions like a moist, well-drained soil. Scallions love a full sun but can tolerate partial shade as well.
3.) Baby carrots: Nothing like the garden grown crunchy sweet carrots. Perfect for those hearty warm soups or stews in the chilly evenings or for those herby stir fry sides or just raw in the salads or as a snack. Carrots are a winter loving vegetable and cooler the air the sweeter they become. You can choose from little finger carrots or Yaya and many more other varieties available. Baby carrots are ready to harvest within two months from the planting date and can be easily grown in containers. They also prefer loose soil which helps the roots to stretch as they grow and love a lot of sun.
4.) Herbs that love winter: Be it summers, spring or winters, we love our herbs. Quick to grow and full of flavor, we can add lot of herbs in our fall garden to keep for winters.
Cilantro: Grows well in cool weather and is versatile to add freshness to any dish. Cilantro grows best in sun but can tolerate partial shade and even survives a light frost. This aromatic herb loves a moist soil and can be harvested as early as 4 weeks after the seeds are sown, for the young leaves.
Thyme: Get the lemony aroma of summer in your winter kitchen with this hardy herb from your garden. First thing to know about this herb is that it is better to get a plant from the nursery or cuttings from your friend, as it takes time to grow from seeds and can result in an uneven germination. Thyme enjoys a good sunlight and a well-drained soil. Much like mint, the more you trim it, the more it grows.
 Few more veggies and herbs to grow are: Rosemary, Mint, Chives, Spinach, Broccoli, Kale, Collards, Kohl Rabi, English Peas.
 Tip: You can continue to grow your garden indoors, when the ground freezes and your precious greens cannot survive the freezing temperature, with a portable vertical planter. The controlled temperature will help keep your garden safe and growing for winters. Just like Watex Urban Design Vertical Garden Kit
 1.) Perfect for herbs and small vegetables like baby carrots or spinach and all the kinds of herbs and berries.
2.) Can be transferred indoors before the killing frost and freezing winters.
3.) Space saving and gives you a beautiful wall décor.
4.) Multiple sized pots give you the ease of planting a variety of fruits, vegetables, herbs or flowers.
 Just because it's winters, does not mean that your garden supply needs to go on a halt. It might get a tad bit slow but with these winter loving herbs and vegetables, there is bound to be a colorful and flavorful stock coming from your garden.