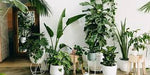 Amazing Tropical plants to make your home feel the summer vibe during quarantine
If you are looking for a bit bigger and vibrant plants to fill up some space in your home, then here are some recommendations on tropical plants that we have selected. These amazing plants are known for their lush colors, big leaves, and they are capable of thriving in humid environments. They are perfect for indoor plants since they grow well in indirect sunlight and prefer the cool temperature here and there. 
Most of the tropical plants are quite larger, therefore make sure to choose an area that is big enough for the plant to grow out. The plants will definitely give a more summer and tropical aesthetic in your space. Whether you place them on the ground or you hang them from the ceiling, these plants will be a great addition to your home. With the whole quarantine and the world flipping upside down, adding these plants will help make your place a bit more tropical!
Here is our selection for tropical plants
Birds of Paradise is a plant that is native to South Africa and we love this plant because of bright banana shaped leaves. This plant can grow up to around ~20 feet tall when it is grown in the wild, but when it is grown at home, it usually stands around 4-8 feet. With that being said, make sure to place it in a room that will accommodate that height. These are the type of plants where you want to place in the corner of a room. Despite the plant size being on the larger side, these are fairly easy to maintain. Simply water them once or twice a week at most and they will grow and thrive on their own. 
What can sound more tropical than the Pineapple Bromeliad plant! Yes, you heard it right, an actually pineapple plant. These unique plants can grow and actually produce a pineapple while being grown indoors. The plants like indirect sunlight and some humidity will be something the plants will love. Before purchasing one of these, it is best to get a bit of understanding on how to take these pineapple plants. 
The Monstera plants have gained popularity on Instagram recently and just like how it sounds, the plants look just like monsters. Of course, I'm kidding. These plants are given that name due to their extremely large leaf size. They are very eye catching and it sprouts out all over the place. Just like the other plants, the Monstera plants like indirect sunlight and a bit of humidity. 
Since most of us are missing out on the usual summer fun, having some tropical plants might just give some summer vibes at the least. It definitely won't replace the beach bonfires or swimming at the pool, but it will make your space a little bit more like summer.