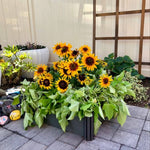 Grow your favorite vegetables in a raised garden bed
If you are looking to grow some vegetables in your garden, then something to consider is the raised beds. There are several benefits for growing plants and vegetables on these raised bends and we will go over a few of them. First, when you hear the raised beds, it might sound like a hassle. You might think of it as something you will have to build out from scratch or it is something permanent. 
Watexgreenliving's raised garden bed offers the perfect solution with an easy DIY kit. With this kit, you can finally place it anywhere you like without the worry of it being a permanent decision. Not only that each set has its own micro irrigation system, so you won't have to worry about watering them. 
Amazing benefits of raised beds
Each bed size is 24 x 24 x 6 and this would be the perfect size to group each type of vegetable. We love this size because it isn't too large or too small. Since it is a small-mid size, you can always start off with 1 or 2 and experience with it and grow it out from there. Even if you don't have a big yard, this raised bed would be great. 
Worried about the material and if it is eco-friendly? No need to worry since the material used is recycled wood plastic composite materials. The garden bed is made from UV protected wood plastic composite with a simulated wood design. 
Some of the amazing benefits of using a raised bed for your favorite plant or vegetable is that it will help keep pathway weeds away from your garden soil. 
Another great thing to point out about raised beds are since they can be placed anywhere, you can place it in a position where it will provide some shade for other plants that don't need strong sunlight. For example, you may grow some tomatoes, which grow at a vertical angle, so they can provide some shade for other plants.