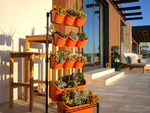 Cuppa' Tea from your Garden
A hot cup of tea makes everything alright. And if that tea comes from your garden, it will make that cuppa even more satisfying. Herbal teas are a perfect way to add some healthy herbs in your daily routine for multiple health benefits. And the best part? Whether it is a small patio or a large backyard, you can grow your teas irrespective of the space. 
Tea doesn't have to get restricted to black, green or white, most herbal teas are much more relaxing than those. Now, don't think of herbs as just lavender and chamomile for your teas, there is a whole big tea world one can explore. Let's start with a few for now and we think you will be adding some to your garden tomorrow. 
Echinacea: A perfect start to the herbal teas. It can help stop the common cold from getting worse and also is an immunity booster to keep your body strong enough to fight viruses and infections. We think this might be something of a keeper in your garden considering we all need to be at our healthiest right now. Echinacea has a floral flavor to it, so you might enjoy it with a touch of honey or as it is. 

Hibiscus: We personally love the tart fruity punch this tea gives. You will get a dark pink color tea and boost of vitamin c with this tea. It also helps in digestion and has tons of antioxidants along with many other health benefits. Make sure the one you get is edible as there are many for just ornamental purposes as well.
Holy Basil: An age old revered herb in the Indian subcontinent and may be for all the right reasons. It has been used in ancient medicines in India for treating many ailments. This is not your regular sweet basil or Thai basil, it has a distinct flavor. It has Vitamin A and C, Calcium, Zinc, Iron, Chlorophyll. It not only boosts your immune system but also relieves anxiety and stress.

Calendula: Add some beauty to your garden and boost your health at the same time with this lovely plant. Calendula is known for its anti-inflammatory properties and helps in heartburn and other digestive issues apart from skin health. 
Lemon Balm: If you like citrus flavor, you might enjoy this light citrusy tea which helps in relieving stress, reducing anxiety, helping sleep better and aids in digestion as well. This is a good choice for taste and for multiple health benefits. 
There are your usual tea favorites like Lavender, Chamomile, Rose so we decided to share some of the other lovely options as well. Add these to your garden and enjoy a relaxing cup of tea, as fresh as it gets.