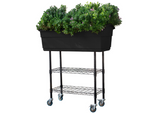 Elevated Mobile Planter – Your Garden Bed on Wheels
Creating a vegetable patch may have sounded impossible in small apartment patios before. But with this garden on wheels, that is far from true. Watex has created a planter that is a perfect small space solution for those who have been wanting to grow their own vegetables, herbs.This mobile garden has been a new addition to our mobile collection of planters. The elevated raised bed is ideal for growing your favorite deep rooted or underground veggies or any other greens you like or just simply creating a flower bed.
Watch the video below to know from the expert at @ohiotropics and click on the link if you want to read a detailed review about this versatile planter.
Benefits of this Elevated Planter:
 1.) Keep your back and knees safe: Whether you have issues with your back and cannot bend or lift heavy planters, or your knees can't deal with anymore kneeling, with this elevated planter. At 37.4 inches, this elevated bed helps you grow your favorites with ease and no pain.
2.) Small space gardening: Now you don't have to worry about not having enough space for garden beds in your patios or balconies. Ideal for urban gardeners and city dwellers who don't have yards to garden, this mobile planter gives you the ease to garden and grow your salads and greens in a small space. Place it indoor or outdoor without worrying about space and spills. 
3.) Mobility: Move your garden bed anywhere you want. Whether your greens need more sun, some shade or need to be safe from harsh weathers, all you need to do it wheel it to your favorite spot and your plants are safe.
4.) Perfect for senior gardeners: The elevation in this mobile elevated planter is perfect for everyone but we think it will especially be ideal for our senior gardeners who are not able to lift heavy planters or cannot bend for long but want to grow their garden. Also, perfect for kids who want to learn growing their own mini garden.
 5.) Indoor or outdoor use: You can create your mini garden indoor or outdoor without worrying about any leakage or spill. The drainage plus holes keep the planter for leaking and whenever you need to drain any excess water, you can just wheel the planter outside to drain it. Create an indoor garden or move your favs. Indoor during snow to continue growing your garden.
 6.) Moisture Gauge: If you fear that you water your plants too much or too little and kill them, then this moisture gauge is perfect for you. This little tube will help you understand how dry or wet your garden is, so you can water your plants accordingly as per their needs.
The perfect gardening solution for all ages and small spaces. Grow anything, anywhere and let the healthy lifestyle and green living be your mantra with Watex Elevated Mobile Planter.