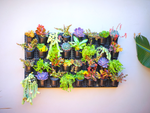 Make your Wall sing in Spring with Living Walls
Green walls  or living walls  have been with us from hundreds of years but as we started cutting down on space, these vertical gardens started taking notice more than before. Be it Paris, Spain, Australia or U.S., one can see these living walls adorning the huge and small structures; residential and commercial, all around the world.
Called by many names like Living wall, Green Wall or Vertical Gardens, it is a part of the wall where a vertical frame is installed and the planters are placed on the hooks or frames. Green walls have helped created a healthy environment and helped in reducing the temperatures and cooling the spaces to a great extent. Not to forget, the calm and refreshed feeling it imparts to a place helping people relax. Best part of having a green wall is that it can be installed anywhere, from a living room, kitchen, bathroom to hotel exteriors or airports. There is no limitation to how green we can make our surroundings with this affordable and innovative concept.
Check out how our Friends at Dalla Vita created this beautiful Green Wall with Watex Expandable Green Wall. 
 Watex Expandable Green Wall is a product with the same concept. One can start with a single frame and keep on expanding with the expandable option provided in this patented product. A perfect addition to creating your own living wall, one can start small with one panel or buy a pack of 4. The irrigation system included makes watering the whole wall a breeze. Just connect one panel with a hose and all the connected panels get watered automatically. Make your living room look picture-perfect by creating a green wall that has never been easier. The modular option gives you the creative edge to go vertical or horizontal or any other way that your green mind takes you.
Benefits of having a Watex Green Wall:
Expandable to suit your requirements and designs.
In built irrigation system for ease of watering the wall and conserving water and efficient distribution as well.
Breathe fresh and clean air.
Add beauty and decorate your home or outdoors.
Make it a three-dimensional art work by installing it in your living rooms.
A creative way to add a privacy wall in your patios or yards.
Make this planet greener one panel at a time.
Perfect way of gardening for those Urban gardeners with space crunch. Go vertical!
As the awareness has increased, companies have started adding living walls in their office building or in museums or as hotel decors to add freshness and purify the environment. Be it for keeping up with the time and trends or actually feeling responsible to help the environment and health of people around, it is nonetheless a step taken in positive direction for a healthy and greener future. Let's take a step and bring nature home.