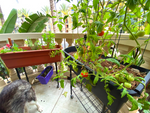 Planters you need for the Fall Season
This late summer time is perfect time to grow so many juicy vegetables like lettuce, Brussels sprouts, cabbage, collards, beets, carrots and herbs like Dill, Garlic, Cilantro, chives. Crops that are planted this late in the season have fewer weeds and pests and grow with much less effort in the garden.
You might wonder if this is early to think about fall/winters crops when your tomatoes are still thriving but to have a good cold weather harvest, the seedlings need to have a good initial growth to establish their roots.
Watex has the perfect container garden planters for you for the coming season as well. Take a look below at some of our planters that will be your loyal friend in the harsh winters and help you grow your favorite greens with out any hassle.
1.) Elevated Mobile Planter: This elevated mobile garden bed is the ultimate all weather planter but it is especially helpful when you have to deal with harsh weathers. This garden bed on wheels can be rolled indoors when you have frost starting or are snowed in. You don't need to worry about any spills or leaks as this container is made to contain any leaks and is indoor friendly. The deep bed gives you the ease to grow all your favorite veggies and greens without worrying about getting spoilt in harsh weather. You can even move it around to get some sun for your mobile garden. No need to bend or lift containers with this versatile container garden.
2.) Watex Pixel Countertop Garden: This mini portable garden is ideal if you want to grow your herbs in the colder seasons. Perfect for a décor piece as well a mini herb wall near your kitchen countertop. Grow your favorite herbs for all the soups and stews and snip them fresh at an arms distance. No more getting out to your garden or worrying about the weather spoiling your herb garden. This is a perfect gift to your kids or novice or pro gardeners as well.
3.) Indoor Garden Bed: This indoor garden bed is ideal for growing in harsh weather when it can get difficult to grow your favorite veggies outside. Ideal for small spaces, patios, decks and no need to worry about any leakage. The drip tray keeps any excess water or leakage contained and the capillary trays allow for efficient distribution of water in the plants.
4.) Watex Mobile Green Wall: This multi pot mobile garden comes in pretty handy when your small space gardens don't have any more space to grow your favorite veggies or herbs. Get your favorite of the two, whether a Single Mobile Green Wall with 11 pots in one planter or Double Mobile Green Wall with 18 pots in one planter. Your fall and winters garden lettuce and young veggies will be happy in this mini mobile garden which you can move to shade or get a cover for it – Watex Mini Green House when the weather calls for a little cozy home for your plant babies to keep them safe.Now get going and planting your favorite fall garden veggies in one of these perfect container gardens for your home.
 Gardening should not have to be limited due to space or weather and for that Watex has solutions to keep your gardening be it rain or shine, urban spaces or sprawling backyards.