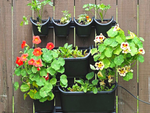 Superfoods in your Garden
We all know growing your own garden has multiple benefits - mental as well as physical. Garden therapy has been known to eliminate stress, depression, anxiety and boost the production of serotonin. While the process of gardening has such immense benefits, the end result is equally rewarding as you get a bounty of fresh greens, herbs, a fresh bouquet of flowers or just a zen space to admire in the backyard. 
Looking at how our immune system needs to be at its strongest nowadays, it only seems smart and productive to grow some immune boosting superfoods in your garden while you are growing your favorites! Who knows, most of these superfoods might be on your garden list already. Let's find out- 
Kale: This superfood has been a favorite amongst the health conscious community and for good reason. This versatile leafy green is full of vitamins A, K, B6 and C, also contains calcium, potassium, copper and manganese. A cup of raw kale only has 33 calories and only 7 gms of carbohydrates. The high amounts of vitamin C and antioxidants make it a great addition in your immunity garden and not only is it full of nutrition but also beneficial for people with diabetes and people who are looking to keep a low carb diet. Not to forget it also has 45 different flavonoids with a variety of antioxidants. All this has convinced us to grow this beautiful and easy to grow leafy powerhouse in our garden. Just find a sunny spot and you can grow your own as well. 
Garlic: This little power packed pod of flavor boosting healthy goodness is a must in your immunity garden. Apart from lowering blood pressure, cholesterol, boosting heart health, garlic fights the cold and flu as well. Garlic is an excellent source of vitamin B6, C, Manganese and Selenium. Eating garlic can give a boost to the virus fighting T-cells in your bloodstream. You can plant garlic in your garden in a sunny spot around mid fall and will be ready to be harvested in late spring/early summer.
Sunflower: The best of both worlds comes together in this beautiful sunny flower! You can not only enjoy the beauty of this gorgeous flower in your garden but once the flower is wilted, you can get the seeds from the flower and enjoy them. Sunflower seeds are packed with Vitamin B6 and E, zinc, selenium. Zinc is very important for boosting your immune system and developing the immune cells. So get growing!
Red Cabbage: High amounts of Vitamin C, full of antioxidants and an immune booster. In comparison to the other cabbages, red cabbage has 10 times more vitamins and cancer fighting flavonoids and antioxidants which boost your immune health. Growing cabbage will need at least 6 to 8 hours of full sun. 
Peppers: Peppers are full of phytochemical that boost antioxidants and red peppers have the highest levels of vitamin c which help you recover from flu and cold as they help clear the mucus from the nose and lungs.Peppers love sun and warmth to grow.