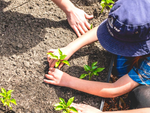 February is here! Well almost. Even though it might still be freezing and cold in many parts of the country, every gardener is already planning the spring garden. The frequent dose of sunshine is giving everyone that garden itch to start fidgeting in the garden.
While it's still cold, there is some garden prep that needs to start for the spring.
1.) Seeds: Now is a good time to order seeds if you want a good selection and variety to choose from. As most of the seeds get sold out by March, you will not have much to choose from if you order later.
2.) Check your garden supplies: Once spring arrives, you will be too busy planting and organizing your garden. So, this is a good time to check your garden supplies as well rather than wait the last minute and find out your tools are rusty or your favorite fertilizer is finished. Clean, restock and equip your garden with all supplies needed like ties, tools, stakes, etc.
3.) Pruning: Pick a day and start pruning. But before you go snipping, take a good look around in the garden and plan what needs to be trimmed and why. Like prune the dead branches and give a proper shape to your plant for healthy regrowth. But be careful of pruning away the new blooms that might be starting to show. Don't cut them off or you will have very little flowering this spring.
4.) Houseplants: Your indoor plants will start feeling the change in weather as well and you might notice them grow slowly. You can start adding little plant food to them but don't put too much. Let the plants start growing in full strength. In the meanwhile, you can start moving them towards the sunny spots near the windowsill for an added boost and maybe give them a little water as well. Also, check for any insects or spider mites before they get out of hand.
5.) Plan your garden: Last but one of the most important things to do. Chart out a plan of what will go where in your garden. You might think you have it all figured out in your head but once you start doing it, all the chaos ensues and you won't remember anything. So, plan according to your sunlight, soil nutrition, what you planted last year and if it needs to switch. Once you know what vegetables, flowers, herbs, etc. you are planning for this year, it will be an easier task to order your seeds as well.