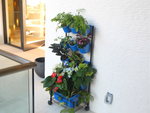 Garden Trends to Look for in 2020
Over the past few years, gardening has taken a leap from a hobby for elderlies or as a past time to a mainstream activity and business amongst younger generations. Be it enjoying a flower garden or growing your own vegetables or just adding a plant indoors, there is a lot of buzz in the gardening world.
Like any other thing, garden trends come and go as well. From different flowers to trending new unique vegetables or houseplants, new gardening ideas keep coming up and can change the look of your garden. Let's take a look at what does 2020 has in store for the gardening community.
1.) Smart gardening: Just like smart homes, the gardening section is catching up with technology as well. More and more gardeners are taking advantage of tech-friendly garden equipment and accessories to make gardening easier and beneficial for the plants as well as the gardeners.  From a time-controlled irrigation system to efficient watering to sensor-based LED lights for plants to remote-controlled and app-based gardening to many more, the gardening industry is getting a taste of technology and loving it. And why not? If there are ways to keep your garden healthy and blooming with lesser stress, then we say bring on the gadgets.
2.) Urban Gardening: Even though there has been a lot of activity in this area of gardening from the past couple of years, the graph has only gone upwards. With the rise in the interest of gardening amongst the younger generation, there has been a lot of focus on growing their own vegetables in as little space as available to them. People living in urban areas normally don't have much space to garden. This has led to finding a creative space anywhere and everywhere in their homes to grow their garden, giving rise to vertical and container gardening. From living walls to mobile container gardens, there has been a transformation in the gardening methods making it friendlier for all spaces and ages. With this uptick, one will see gardens being a part of people's living areas.
3.) Grow your own: With the everyday news about pesticides, GMOs in our food and climate change people are starting to take control of the food they eat by sustainable gardening options. Growing your food gives you the benefit of knowing where your food is coming from and what is in it. Apart from that, it reduces your carbon footprint, gives you fresh veggies, and all the benefits that come from gardening like reducing anxiety, depression and promoting happy hormones.
4.) Houseplant décor: While this might again be an old trend but a lot of people are realizing the benefits of having plants indoors. The trend of having plants inside is no more just for decoration but also for the healthy air quality and mood-lifting effects. There are lists of innumerable plants that are beneficial for indoors and are useful for creating a fresh atmosphere along with giving a boost of green décor.
5.) It's going to a be a blue year: Pantone declared the color of the year 2020 as Classic blue, so you can naturally assume that there will be a lot of blue to see this year around you. Also in the gardening section, where there is no dearth of blue. From Hydrangeas, blue pea flower, to all the shades in that family of color we can expect to see a lot of them this year. Also, not just plants but you can see a lot of planters, outdoor furniture, accessories in those shades as well. So, if you want to get in the blue trend then start planning your seeds and flowers accordingly now.
Whether you are planning to follow these trends or are always following them, there is always something new to look forward to the new gardening year. Find out something you have been wanting to add in your garden or get out of your comfort zone and try something that might be intimidating to the gardener in you. It's all about creating something that refreshes the gardener in you!