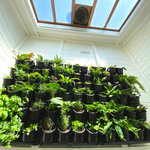 Garden chores for December
December can look like a time you get to take a break from your garden duties but there is much to be done. Longer nights, shorter days and chilly weather doesn't help but there is a lot of planning for the next season and weather proofing your garden. Let's make the job easier and keep you on track without forgetting the important items to do.
First and foremost, start raking all the leaves to clean out any hidden pests. 

Move all the plants to a safe place before it starts snowing (if you live in that area) or gets too cold for your plants to handle the cold winds. It would be ideal if you have a location where your plants can get a little sun everyday.

If you still have some crops remaining in your garden, get busy harvesting them.

Now that it is difficult to garden outside, you can start your mini garden indoors. It is easy and no stress with Watex Planters which are ideal for indoor gardening. Check them out here for your veggie, herb or salad needs. 
While we love all our planters. There are times we get to hear about our certain favorites amongst the garden lovers. Ode Magazine finds Watex Raised Garden Beds to be the best amongst others in the market. Click here to find out more and may be add it to your gift list for your garden lovers. 
Start a garden plan for your summer garden. Planning now will help you to order seeds in advance.
Don't forget to keep a check on your house plants. With the heat drafts drying up indoors, it can have an effect on your plant babies. Keep them away from direct vents and water them regularly. 

While you are taking care of your garden, why not help the little feathered friends that visit your garden. Keep a bird house if possible, for them to have a cover from snow and place some food and water as well.

This is also a good time to check your garden tools for any maintenance needed so you can keep them ready for the next season.
Make sure your gutters and pipes are clear of any garden debris to avoid any blockage. 

Lastly, soak up all the warmth and enjoy your indoor plants and don't forget to add air purifying plants indoors if you haven't since you will be spending much time indoors.