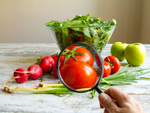 GMOs - Why and How to Avoid them.
Eating healthy food should be a basic human right. But nowadays everything comes at a price. Even healthy clean food. Today we are talking about the dreaded GMO giant that has been lurking in the food industry from years and trying to make its existence in every food item if it could. Thankfully we are not there. Yet. Before we go bashing this giant (rightfully so), let's find out a little what and why about it.
What are GMOs?
GMOs or Genetically modified organisms also known as genetically engineered foods. These are made by introducing foreign organisms or bacteria into plants like corn or soy and many other plants to alter their genetic composition for various purposes, mainly for faster growth of a fruit or a vegetable in terms of size and quantity.
Why are they harmful?
1.) First and foremost, GMO plants are engineered to alter their basic genetic composition by using foreign bacteria which in itself makes the product we consume not natural and unhealthy due to the introduction of insecticides used on them which are toxic.
2.) Since these GMO plants are often resistant to herbicides, farmers end up using large quantities of it to compensate for its effect. This process is generating the need to make stronger and more harmful chemicals and pesticides creating a dangerous loop of pesticide-resistant bacteria and even stronger and harmful pesticides.
3.) There are researches based on animals that are fed GMOs suffer from damage to heart, kidney, liver and a compromised immune system as well.
4.) The chemicals used on GMO crops are not just harmful to plants it has been sprayed on but also affects the water, environment and the bugs and creatures that help keep our soil healthy.
5.) Since the introduction of GMOs in the market, our hardworking farmers have taken the brunt of this problem. The prices for the organic (once upon a time which was a normal seed) seeds have quadrupled leading to excessive costs affecting their livelihood.
How to avoid GMOs?
1.) Grow your own: We have always been a huge supporter of growing your own food. For various reasons like enjoying your home-grown fresh vegetables is like none other. You get out in nature and stay healthy by getting a workout. But one of the most important reasons nowadays would be to know where your food is coming from and what goes into it. To say, it's organic and GMO-free.
2.) Avoid processed food: Almost all the processed food has something or the other that contains GMOs. Be it the oil, or the ingredients.
3.) Go Organic: If you are not growing your own vegetables and fruits, your best deal to avoid GMOs is going organic. The USDA prohibits the use of GMOs in any of the Organic foods. So that way you can rest assured that you are eating pesticide and GMOs free healthy food. 
4.) Non-GMO seal: Since it is not required by law for companies to label GMO foods, the best way to find a Non-GMO food is looking for a label by companies who do follow and support it.
5.) Check your ingredients list: The 5 most common foods containing GMOs are corn, canola, soy, cotton, and sugar that are used as additives in most of the packaged food.  So, check your ingredients for corn syrups, oils, and other flavoring agents.
If this whole GMO info has been overloading and suddenly making you check everything in your pantry and fridge. Sit down, take a deep breath and start with baby steps. Make a list and start from there. You do not have to toss the whole house upside down in a day. A small step towards healthy living is a giant leap towards a healthy mind and body for you and your family.