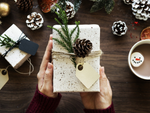 Green Thumbs up for these Gardening Gift Ideas
Nature's gold is slowly fading away and in its place is the shimmering white snowy ground. While it might not be gardening season anymore where you live thanks to nature but which gardener hates getting a garden gift? So, while you are preparing the list for all your loved ones, we have a list prepared for you too. You might find something for that garden enthusiast (or for yourself) to do even in this freezing weather or something to look forward to Spring for.
1.) Pixel Countertop Garden: This mini portable garden is a perfect little gift for growing herbs or creating a succulent décor piece indoors and adding a touch of green in this gloomy weather. When the weather is not favorable to grow anything outdoors, this little guy will do the trick for you. Score some brownie points from your garden lover by getting a winter favorite for them.
2.) Elevated Mobile Planter: No need to worry about not getting those greens from the frozen ground outside. This elevated garden bed on wheels will help you grow everything you want in the warm comfort of your home. Grow your carrots, lettuce or any greens even root veggies in this mobile garden. It does not leak any water or soil and it is easy to move around thanks to the wheels. The water reservoir at the bottom helps keep the plants hydrated. Let winters not dull the gardener in your or your loved ones getting this versatile planter.
3.) Expandable Green Wall: This vertical garden will give every gardener a way to increase their growing space. As we all know, there is never enough space or plants for a gardener. This lovely living wall will give any wall a facelift and a reason to buy more plants for any garden lover.
4.) Self-watering individual planters: This individual planter will help your friends deck up the indoors without worrying about water leaking or spoiling the walls. These planters can help them start small and add more to their wall eventually.
5.) Green House: Winters can get cruel on the plants and every gardener's worry is to save their plant babies from this havoc. Help your friend by getting this mini greenhouse to give them a cozy home and keep them safe from the winters.
6.) Mobile Green Wall: If you live in an area where winters are tolerable to your garden outside, then this Mobile Garden with 18 plants in 1 is going to make you the winner in the gift category. Perfect for small spaces and ideal to grow multiple varieties in one planter. Your garden friend will always remember you when they look at this vertical garden thriving.
 While there are many more gift ideas in the gardening world for you to choose from, these unique planters will have their own way of making your gift special with its portable, space-friendly and indoor friendly qualities. Start shopping now and check those names on your list.