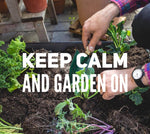 Growing your Victory Garden
Many of you may be asking, what is a Victory garden? Victory Gardens, also called "war gardens" or "food gardens for defense", were gardens planted on private residences or public land during the War times to reduce the pressure on the public food supply brought on by the war effort.
Of course, we are not in a situation where we have no shortage of food supply nor are we in a war that impacts the food chain supply. However, we want to give some helpful tips and ways to cut the amount of grocery shopping and simply get fresh food right in your own backyard. 
Choose the crops that have the best yield in your space
Make every square foot earn its way. While spinach, peas, or other small greens may sound great, they may not make the most sense if you have only a few raised beds. Instead plant crops that you can pick quickly, and provide enough food for at least a few meals, and think about space over the long-term. For example, 3-5 beds of spinach is wasteful when it comes to space use. It will produce as much spinach as that found in a $5.00 box found at a store.
Plant smart 
Let's talk about how to make every square inch valuable because you are growing food to help cut the grocery shoppings and skip the marigolds and companion plantings and grow crops that maximize space and harvest. Use the space between cabbage for productive crops that mature before other crops do. For example dill, radishes, or onion and cilantro. A few that yield greatly are the swiss chards, tomatoes, and peas. 
Raised Beds
With raised beds, try sowing crops that can stay in the ground a bit longer such as onion sets, cabbage, kale, and mustard greens won't need to be sown as often. If you have mesclun mixes sown, try using a trowel to select out a few mustard plants and plant them in a row or grid in a different location, so that they can grow larger. Mixes that are cress and arugula-heavy or sown too thickly will bloom faster, but mustards can be transplanted elsewhere and will grow into large, productive plants in just a few weeks. 
Speaking of growing vegetables, the Watex modular garden bed kit is the perfect DIY raised garden bed kit for homeowners to plant their favorite plants or vegetables at home.
Keep pathway weeds away from your garden soil.

 

 Prevent soil compaction.

Provides good drainage and serve as a barrier to pests such as slugs and snails.

Create a garden even if you dont have a big yard with this raised garden bed. You can grow your vegetables or make it an herb patch.