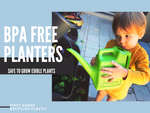 Our mission at Watex has always been about encouraging Green Living and many a times we are asked a question by our customers- Are your planters BPA free?
To put all those worried gardeners' mind at rest, today we want to share with you what are our planters made of. But first, let's share a little about what is BPA and what does it do to you and the environment?
What is BPA?
Bisphenol A or BPA is a chemical that can found in many plastics that are used in our everyday lives. Like Plastic water bottles, Electronic items, sports equipment. Basically, it is all around us and humans are highly exposed to this chemical.
What does it do?
BPA is an endocrine disruptor. It can imitate body's hormones and interfere with the production, secretion and other body functions and elimination of natural hormones. It can lead to fertility problems, cancer, heart disease and many other conditions. Infants and children are especially sensitive to the effects of BPA.
Can we avoid it?
We can try to minimize our exposure to it by:
1.) Checking for a BPA free label on foods and packaging.
2.) Use glass jars to store food.
3.) Don't use canned foods.
4.) Avoid plastic containers to microwave.
5.) Avoid washing plastic containers in the dishwasher.
6.) Always check for a BPA free label on any plastic you buy.
Do Watex products Contain BPA? What goes in Watex planters?
We are proud to say that Watex planters are BPA free. We strive to keep getting better in our mission for Green Living and a healthy environment. Watex products are made from first grade recycled plasticwhich helps reduce the plastic wastage in the environment. The plastic that is recycled is always taken from the food grade plastic which is safe for human consumption and does not contain the BPA chemical making Watex planters safe for growing your favorite Greens and Vegetables and also keeping the environment safe.
Watex products contain PP plastic which is safe to use.
Living a plastic free life in today's environment is difficult as it all around you but we can always do our bit to reduce the plastic wastage and ban the harmful plastics from our life and live chemical free.