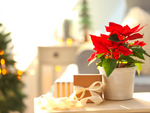 Living Gifts for your Loved Ones this Christmas!
The Christmas countdown is on and we are only 7 days away from the festivities. The trees are decked up and shopping for loved ones is in full gear. While you may be able to figure everyone's favorites, we have something unique for you to try out this year if you haven't already thought of it.
We all know how dull and dry can our indoors become during winters. We have some planty options for you to gift your loved ones this season and help them add some freshness and greenery in their indoors as well. Let's look at a few options that can make a lovely gift that will last years and will remind your loved ones of you, every time they look at it.
1.) Christmas Cactus: After all, it is Christmas and this beautiful plant that is easy to maintain and stays for years. The beautiful flowers make it even prettier and a perfect décor piece.
2.) Poinsettia: Another elegant Christmas favorite, these beautiful red and green beauties make for a lovely decoration and add to the beauty indoors. Since it is a tropical plant, it likes to be warm with a cooler setting at night (around 55 degrees).
3.) Peace Lily: Not only is this plant perfect for indoors and beautiful to look at but it also helps in reducing indoor pollution. Yes, our indoors polluted with all the chemicals in the air like Benzene and Trichloroethylene which comes from our everyday items like detergents and furniture, etc. Add to that winter season when we keep everything closed reducing the inflow of fresh air from outside. Peace lily helps you by reducing the toxic air be removing those chemicals along with any Formaldehyde, Acetone as well. It also helps reducing mold by absorbing mold spores and consuming it as food.
4.) Kalanchoe: What could be easier than a succulent to maintain and add to that it gives you beautiful blooms in winter. A perfect gift for your friend with an easy to care for plant. Just place it near a bright window and only water when the soil is dry.
5.) Phalaenopsis Orchids: You don't have to stick to the traditional Christmas plants. These beautiful and one of the easiest to care for indoor Orchids make for a beautiful and elegant gift. They enjoy indirect sunlight and their blooms last long.
While these are just some of the options but there are many beautiful plants that can be gifted to your loved ones other than just the Christmas themed plants. Gifting something green and eco-friendly makes for such a thoughtful gift.