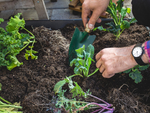 Are you ready for January Garden tasks?
While it's still December and we know you are busy with all the gift-buying and getting ready for your Christmas fun. But since it's going to be a busy month, we decided to give you a heads up on your January chores for the garden, which is probably getting a little ignored right now.
January is time for fresh starts, new resolutions and good vibes and plans for the year ahead. Probably a good time to look into your garden to give it a bit of a touch-up. It might be cold outside but there are still plenty of things to be done for the year ahead in your garden.
1.) Houseplants: You can start with indoors. Since the sun is not shining as much, there might be slow growth in your houseplants as well. While overwatering them is not going to help them, keeping them dry is also not a good idea. With the heat vents indoors, the plants might need to hydrated occasionally. Keep in mind to watch when to stop. Misting them will help keep them humid as well.
2.) Clean up: Start cleaning those tools, pots, greenhouses, etc. that are needed for the spring. Not a very fun task but you will be ready for the Spring season.
3.) Harvesting: If you have planted winter veggies, it will be ready for harvest. Cooler temperatures make for sweeter greens. Harvesting them regularly will help to pinch them back to make way for new greens.
4.) Ordering seeds: This is a good time to start planning what you want to grow in your vegetables, flowers, herb patches. Plan ahead and order now as this is when you will get good quality seeds. As you get closer to spring, you might not get what you want as most of the gardeners must have ordered it.
5.) Pruning: Winter is a perfect time to give that trim to your garden for keeping your garden looking at its best. In the winter period when the plants are dormant, pruning is more beneficial, as it gives way to changes when it starts coming back to life in the spring. This applies to all of your garden from rose bushes to perennials to fruit trees etc.
6.) Snow removal: We understand that removing the snow from your garden seems like a useless task as it will be covered in another blanket of it the next day but this is probably another not so fun task that needs to be done to keep your plants from getting damaged. Clear off snow from your greenhouses to avoid them getting broken. Clean snow from the trees to avoid its branches breaking under the weight.
So while you are busy feasting right now and getting your Christmas tree decked up, this is just a reminder to get ready for your garden workout in January for a beautiful Spring.