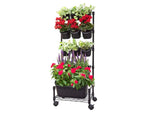 Mobile Green Wall Review by Ohio Tropics
It's always nice to hear from happy customers but when a seasoned Gardener reviews your fan favorite and is raving about it, it's like icing on the cake or in this case a garden full of Roses! 
This review will answer any questions you may have on the Mobile Green Wall and might even encourage a novice gardener or anyone planning to add one more planter to the ever growing list.
https://ohiotropics.com/2018/09/19/watex-mobile-green-wall-product-review/ 
 Watex Mobile Green Wall helps you in creating that green space and connecting with nature.