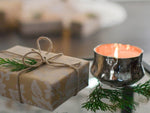 Gift Ideas for the Festive Season
The cool crisp fall breeze has filled the air and everything is turning into golden hues. Which also means it is the beginning of festive season! Time to enjoy pies, pumpkin lattes and exciting gifts! The shops get filled with so many generic gift ideas that sometimes, it can get overwhelming.  Let's look at few ideas for our garden lovers, which can add a little more cheer to this season.
Pixel Garden Desktop: A perfect indoor portable garden for those who love their herbs but winters might not be favorable for them to grow it in their garden. Your gardening pro friends will love this mobile mini garden and cam place it on their kitchen counter or can make it an indoor green décor. While they will get compliments from their guests on this perfect conversation piece, you get the brownie points.
Expandable Green Wall: If your friend loves green décor and has a flair for gardening, then this expandable green wall is an apt gift for their indoor plants. This hanging expandable green wall can start small with just one panel and can be expanded into a huge green wall. So you are helping your friend start a beautiful green décor if they want to turn this small pack into a big green wall.
Mobile Green Wall with Mini Green House: Winters can play havoc on the delicate greens. Whether it's a small mini garden or a huge yard, they all need that TLC in winters. For those small space homes, this mobile green wall with Mini Green House is the perfect gift for your Gardening novice friends who are planning to take the plunge into this area. This mobile green wall can be moved inside in winters to save your plants from freeze or kept under the covered patio and covered with the mini green house so they can survive the cold and be safe. Your dear ones will remember this thoughtful gift everything time they look at it.
Growing light: Winter sun is not a sufficient source for your plants to get enough light and warmth to grow. So the growing lights come handy and are one of the most useful things for gardeners who want to grow vegetables or anything in winters. Gift this useful accessory to your garden lover friend and enjoy the harvest goodies with them.
Tool Kit: Every gardener whether a novice or pro needs a gardening tool kit for his green patch. While pros might have it already, you can find out any item that they have been planning to replace or looking for a new pair and get it for them. For beginners, a whole kit might be a perfect gift to help them pursue this hobby with enthusiasm.
Bird feeder: Help your friend create a hangout joint for the chirpy friends by placing a bird feeder in your garden. It might keep those little birdies away from the newly planted seeds as well.
 Composter: It might not be for everyone, but if your friend is contemplating to get a composter. Gifting them might bring a warm smile on their face with this thoughtful gift. 
While there are many more gifts that are available in the market for you to choose from, these might be a good fit for your garden lover friends. Even for those who are contemplating to start on this rewarding hobby!