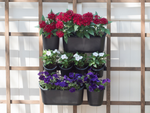 Urban Design Green Wall Kit Review by Gardening Products Review
Our Urban Design Green Wall Kit is one of the ideal and versatile vertical garden kits from our collection. The ease and benefit of creating whatever you want it to be is multifold. Make it a flower wall, an herb garden with different sized pots for varied herbs or mix and match it with herbs and veggies in large pots. Even the way you want to place it on the wall is your choice. Install it in a line, like many of our customers did or any other way your creativity takes you.
While we can't stop talking about this beauty, we will let Monica Hemingway from Gardening Products Review take over to give you a detailed review on our Urban Design Green Wall Kit. With professionals like these reviewing our products, we know there will be an honest answer to all your questions in this review.
Click the link below to read and get one while our FREE SHIPPING lasts. 
https://gardeningproductsreview.com/watex-urban-farming-green-wall-kit-product-review/