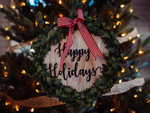 Gifts for Gardeners in Your Life
It's a lovely season to enjoy beautiful moments with family and friends. We all have those long lists of gifts going on these days for all our loved ones.  To help you, we have a few gift ideas, to make the gifting task easier for those who may want to start the new year on a Green Note!
Let's click back to this blogpost where we created a list for you a while back and find out the what we have in store for you from Watex products and few other items that might catch your fancy. Plus, with a 20% discount going on this Cyber Monday week, everything is up for grabs on a lower price, along with a few other special offers on select items!