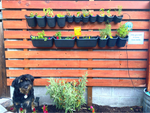 Add some Green Charm to your Vacation homes!
Whether it's a cabin in the mountains or a beach side rental, green decor is always a welcome change in any design set up. Move from the usual photographs and painting or murals, and add living walls to your home and give a boost of freshness and facelift to dull and empty walls. 
Inspire your guests with some green decor while giving them a boost of fresh air. Whether your home is an urban apartment with limited space or a spacious residence, Watex Green Walls are a perfect fit for this. Not only do these living walls give a burst of green to your space but growing herbs, greens, veggies but your guests can snip away fresh herbs for their cocktails, herbs, bbqs or make fresh salads from the greens growing. An added benefit and USP that makes your holiday home more welcoming and attractive to the potential customers.
Watex Urban Design Vertical Garden Kit
Watex living walls are perfect for any space without any harm to walls or the space around. This 8 pot planter gives you the ease of installing the planter on any wall with the panel that comes with it. Easy to put it up on any wall with the help of that panel that acts as a barrier between the wall and pots to keep it safe. The different sized pots in one planter gives you the option to grow a variety in one planter. From herbs, greens, flowers, microgreens, you can plant anything you like. You can either just install one panel for a small space or keep expanding by adding more panels, attaching them to the other panels and making it a big living wall decor, adding beauty to your place. 
Also, the built-in irrigation system is perfect for vacation homes where you may not be around to check on watering needs of your plants everyday.The irrigation system waters your pots all together without having to water each pot. Also, for such instances,when you are not around, you can just install the irrigation system and connect it to the Watex Aquamatic system which waters your plant wall on a schedule set by you.
Looking for a vacation rental in California close to beaches and yet peaceful and relaxing to unwind? Check out this beautiful property near the Russian River, where you can chill with your friends on the beautiful lawn outside or head to the beaches nearby to get some vitamin sea (or river in this case.)  Why should you choose this space over others? Well apart from the short distance to Monte Rio beaches, nearby wineries, beautiful hiking trails and the gorgeous redwood forests to explore, you will get some green boost in the lovely fenced sprawling backyard as well. Check out the recent green upgrade below and book your next vacation now! 
https://www.riverhomes.com/vacation-rentals/bella-vita
Designing your own home is always fun and you have the liberty to design it as per your personal taste but there needs to be some extra thought if you are a holiday home owner, renting out your home. When it comes to adding some decor to a home you are planning to put out as a holiday rental, you may need to design a more balanced decor attracting everyone and not discouraging people with your decor ideas. After all, people want to stay where they feel pleasant and welcome.