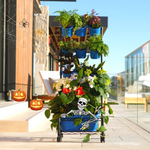 Spooktacular Garden Decor Ideas for Halloween
The spooky season is around the corner and we are here for it! You can already see the stores filled with all the Halloween decor and ecstatic kids deciding their costumes for the day. Well it's not just the kids costumes that need to be finalised. After all, we want our plant babies to have some fun as well.
Adding some halloween decor to your home and garden brings a festive feel to your space. But what can you do in your garden without hurting the plants and still giving the spooky feel to it? Let's look at the list of decor ideas you can use in your space. 
Pumpkins: We all know that the first thing that comes to mind when you think of Halloween and fall is Pumpkins. So, let's start with this classic, beautiful and most prominent gesture of the season. Carving a pumpkin into Jack O lantern and many other evolved shapes in itself is a cherished family activity amongst families and even communities. You can add some multiple sized pumpkins in your garden, depending on the size and shape and add some tea lights in it to give that spooky glow to your garden.
Tip:
While carving, rather than being careless about the yummy fleshy part and throwing it away (if you do), keep it aside and use it for pies or soups and not be wasteful. 
Fake Bones: Ooohh we love this one! Get a couple those fake skeletons in stores and rather than hanging the whole frame at one place, break a few apart and strategically spread them around in your garden. E.g. placing the skull and hands popping out of the soil and legs up in the air on the other side of the garden. Get creative and you might scare yourself that day!!
Plant decor: If you have a big tree or large plant, you may want to use it to your advantage for this day. Add some scary lights under the tree that glows up the tree and hang a white scarecrow. You can also add some eerie music to enhance the effects. 
Wilting plants: As the seasons are changing, there might be a few wilting plants or some plants that you plan to remove from your garden from the season. Use those to add the creepy effect and place them all around the garden, near the skeleton etc. 
Gothic feels: Use some old wooden planks or chairs if you have them lying around and place them around the dying plants or under the tree or near the plant and get it a little dirty with soil to make it look old. 
Table piece decor: If you have a seating space in your garden, let's get inspired from our good old Harry Potter and add those Mad eyes in a bowl or a planter on the table. You can create a bowl of succulents and place these mad eyes around in the planter. It will surely make your trick or treaters look twice at their candy. You can also place similar bowls around your house as a theme for added effect. 
It's the season of celebrations and festivities, then why not add some spooky fun to your garden decor as well?!! Start planning and add some gourd-geous designs to your garden!