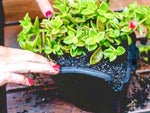 August Prep in your Garden
It's August! Which in gardening terms means a busy work month. Even though the temperatures are still soaring high in a most parts of the country, it is almost time to prep for the next season approaching soon.
It can get a little overwhelming to think of things to do. What are you supposed to do? We have a few important points to share with you to give you a head start.
1.) Harvest: You could get one more yield from your summer garden, before the fall garden takes over. Harvesting will encourage more production.
2.) Weeds and Seeds: Pull out any weeds that may go to seeds and spread around in your garden. Keep checking each week for any weed signs in your garden to keep them in check and clean it off.
3.) Planning for fall garden: Start planning for the crops you want to grow in the fall/winter season. This is the right time to get seeds and organizing your garden plan. You can start seeds for fall vegetables like Kohl Rabi, Spinach, Cauliflower. By starting the seeds now, seedlings will be ready to plant by the end of September.
4.) Deadheading: If you have flowers in your garden, it's a good time to deadhead them to extend the lifespan and give you a few more blooms before the season is over. Also, deadheading not only give you more blooms but also diverts the energy to the right places.
5.) Spring blooms prep: Order spring flower bulbs now. You may not be planting them right now but you will get the best to choose from. If you live in a tropical area or where you do not get much winters, your flower bulb will need some artificial chilling before they bloom.
6.) Save the seeds: This is also the time to save any seeds from your garden for the next season. Find your favorites and the ones that performed well this season and save them.
7.) Watering: In some regions, August can be a dry month. Check your garden and make sure your plants are getting the water they need. Water deeply once a week so the plants get all the hydration they need.
These are just some of the important garden chores that August will keep you busy with and gives you a head start for a beautiful fall garden.