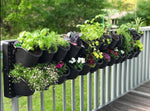 Best planters for your garden
The process of growing your vegetables and having your own garden can be extremely rewarding and tastes better. The same idea goes for when you cook your own food, it sometimes tastes better because you put your own effort and love into it. The vegetables and fruits that you grow yourself may just taste better than the store bought ones. And of course, the ones you eat right from your garden is completely fresh. Growing your own edible or flower garden can be a very satisfying feeling. Not to forget the healthy benefits that come along with growing your own vegetables and being in the garden.
First thing first, do you have the backyard or space to grow plants? With all of the gardening options available, there are endless options from indoor to outdoor to even mobile gardens. Whether it can be a garden to add onto your current one or if you ran out of space, then  you can start working your way up. There are amazing vertical gardens and some of the benefits include: saving space, it looks aesthetics pleasing, and many more. 
One great option for a vertical planter is the Expandable green wall which you can easily install and it has its own irrigation system, so you don't need to worry about watering them. 
If you want to add some more nature to your own kitchen or living room area, there is the option to get a Kitchen countertop garden. With this, you can easily grow fresh herbs and it will be accessible right when you are cooking! How amazing would it feel to just use fresh herbs right as you are cooking. Plant from rosemary, basil, to mints with this and it has its own drainage system for each pot. 
If you have your own garden space and don't want to go through the digging and maintaining the huge space, container gardening can be a savior.
Benefits of container gardening:

No need to dig the ground or the hassle of weeding.

Perfect for small spaces like patios, terraces.

Easily movable in case of change of weather or just aesthetics.