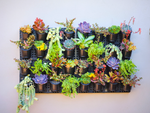 Expandable Green Wall Review by Dalla Vita
We love our green walls but it can get overwhelming for some people and there can be questions about how it all works. So, to answer your questions, we have some experts sharing their review on Watex Expandable Green Wall and how they installed it and what all do you need to do.
Our friends at Dalla Vita share their review on this multi pot vertical garden. With Cali and Elliot sharing their experience with you all, we are sure there are honest answers for your questions. 
Head to link below to read the review:
https://dallavita.com/2019/04/03/a-succulent-wall-garden/
Share this blog with your friends on social media with the links below and help them get one Green Wall as well!