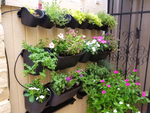 Urban Design Green Wall Kit - Why you should have one this Summer!
We have shared this review with you all earlier, but our experts at Gardening Products Review shared the performance update on this beauty in Arizona heat, with us and we are excited to share it with you all. 
This vertical 8 pots mini garden gives you various options to grow herbs in small pots, veggies or flowers in medium and large pots. And you can keep adding the new kits to it and grow your garden as a living wall!
If you missed this review before and have questions about this Living wall garden, then worry no more cause our friends have taken care to answer all your queries in the review. And the update tells you how you will not have to worry about this sturdy planter for years to come. This garden friend is not going anywhere!
Click the link below to read the performance and other details of this lovely beauty:
Urban Design Green Wall Kit Updated Review
If you like what you see, share it with your friends on social media with the links below.