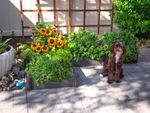 The season of flowers is here and while we love to look at our pretty blooms hanging on the plants, why not drop a few in our dinner plates? Flowers have been used in culinary purposes from thousands of years in many cultures like Chinese, Romans, Indian to name a few. Adding flowers to your dinner plate not just gives it a delicate look but also adds unique flavor profile from your everyday dishes.
Flowers are mainly seen to be used in teas or on top of salads in high end restaurants or adorned on cakes. Why not get creative this summer and find some interesting uses for those fragrant edible beauties for your summer parties or barbeques. May be make floral ice cubes for your cocktails or candied petals for your dessert garnish. The options are many and are sure to add a touch of chic to your do.
 Let's look at a list of flowers which can be consumed and have potential health benefits.
 1.) Hibiscus: Let's start with a famously known one. This lovely tart and sweet flower has been a favorite for many tea and cocktail lovers alike. It is also used in making jams or on top of salads and has a flavor profile like that of a cranberry. Found in a wide range of colors and varieties, Hibiscus has been used for medicinal purposes as well. Some studies show that consuming hibiscus can help in reducing cholesterol and blood pressure.
2.) Lavender: The small beautiful Violet flowers have a very distinctive fragrance which is known for its soothing properties. It's has been used in a wide array of edible and beauty products. From herbal tea, spice rubs, baked items, syrups to hand lotions, body wash, essential oils, this versatile flower is a much desirable favorite of many for its calming properties combined with the beautiful color.
3.) Borage: These little star shaped beauties has also given them a name of Starflower and is usually blue in color but can also be seen in white occasionally. It has a cucumber like flavor and even the leaves are edible. The flower can be eaten raw but is also used in cocktails, desserts, soups, pasta stuffing or just as a side dish. Borage is also used to sooth sore throat.
4.) Purslane: Beautiful small yellow flowers and fleshy leaves in this succulent look beautiful and can be eaten raw, leaves and flowers. This power house of antioxidants, minerals and vitamins along with a packed dose of Omega- 3 has made this tiny beauty a favorite amongst many. Use it in sandiwiches, salads, smoothies, juices or just mix it in your favorite vegetable side. Also known as pigweed, little hogweed, it has a slightly similar taste to spinach and watercress.
5.) Rose: The beautiful fragrant and much loved for its décor purposes, roses have more than 150 species and thousands of hybrids. The best part is that all the varieties are edible with a flavor reminiscent of strawberries but all of them don't taste the same. Rose petals can be eaten raw or garnished in desserts like ice creams, or mixed in fruit or vegetable salads or even used in tea or cold beverages or used in jams or jellies. Not just for the culinary purposes rose has reigned over the beauty section from thousands of years. The cooling properties of rose works wonders for the skin and as well your body which is why it has been used in skincare products all over the world. Roses also reduce anxiety and stimulate relaxation.
6.) Squash Blossoms: If you have squashes growing in your garden right now, you might see these beautiful yellow flowers blooming. Mostly famous for zucchini flowers, these summer squash blossoms can be eaten raw or are even battered and fried or can be used in salads. One cup of squash blossoms only has 5 calories but are high in calcium, Iron, Vitamin C and A. But don't fret about losing your squash yield. Only female blossoms produce squash, so you are safe to eat male flowers. Female blossoms grow closer to the plant and have small round fruit at the base of the blossom while the male blossom is thin and long.
7.) Dandelion: Famously known as garden weeds, these underappreciated edible flowers are loaded with antioxidants and are edible from flowers, stem, roots and leaves, all of it. The roots are mainly used to make the tea but the small yellow flowers can be eaten raw, battered and fried, in salads or even added in casseroles.
8.) Chamomile: Last but not the least, this floral herb has been famous for reducing anxiety and improving disturbed sleep patterns. Mostly used in herbal teas, it tastes sweet and earthy and also be used in syrups or smoothies.
 These are just a few in the list many more floral lists that mother nature has gifted us with and if you have only used flowers for decorating till, may be now is the time to grow some of these in your back yard or buy some to use them to add a little color and beauty to your regular meals with some health benefits as a topping.