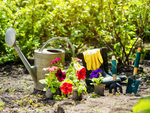 Get your Garden Spring ready with a few simple steps and Watex Urban Garden Planters
It's officially Spring! Snow is starting to melt away and which means it is time to get your garden in order. Prepping for your garden to plant new seeds, greens or flowers, is a task for days. While it is exciting to start planting your new garden, let's look at the important things you need to do before that, in the list below.
 1.) Clearing up your garden of all the winter of all the weeds, winter crops and any other garden trash.
 2.) Check out your garden tool box and clean, oil and sharpen them. See if any tools need replacing or anything new you want to add to your collection.
Watex Modular and Vertical Garden Mobile Planters are a perfect way to maximize space in your garden with ease and multiple benefits.
Mobile Elevated Garden for your Vegetable Gardening.
 3.) While you are checking your tools, also look at your garden supplies like fertilizer, pesticides, soil, wire frames or any other plant support you might need for your summer crops.
 4.) Now before you plant any new seeds or plants, clean out your old plant babies. This is the perfect time to prune your greens for them to grow new leaves and bloom. Although, you need to be careful before you go chop chop on your plants. Not all plants are meant to be pruned in this time. Some plants actually bloom better on old wood rather than on a new branch. So,check before you snip.
Expandable Green Wall for the Small Space Gardening or even decking up your patio for the summer. Go Vertical! 
5.) The minimal or no gardening period in winters makes the soil compact with all the snow. So, loosen up that soil by digging or tilling using your updated tool box. Mix in the compost and any mulch that is on the ground. But take out all the fresh leaves that might be on the ground. If you can, do test the pH of the soil to see what nutrients your soil might need.
6.) Get your garden beds set and any new pots you are planning to add this season. This is a good time to plant new seeds or plants, bring out any seeds you started early indoors and place in the garden.
Mobile Green Wall to keep your garden on wheels and get that much needed sun to all you greens in one place.
With these basic few steps you can be ready to get your gardening season on. If you have a space issue or you want to add something different to your garden this year and maximize the benefit from the little space you have left, check out Watex Planters collection for all gardening perfect for you and your plant babies.