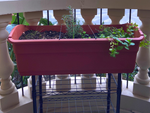 Grow your own Beauty Garden
It's only now that the market is filled with all these brands that promise to enhance our skin with all "natural" products. While these products might be giving us what we need, it comes at a steep cost. So we thought why not try to find some solutions in our good old garden and give the chemicals a rest and our pockets as well. 
Making your own customised skin care items is not just good for your skin and pocket but also gives you complete control on what is going in your body. Let's start and find out a few garden favorites for your spa at home.
Rose: Nothing like the elegant beautiful rose. It doesn't just add beauty to your garden but also to your skin. Make some rose water and spritz on your face for an instant freshness. You can also make a rose face pack by crushing rose petals and adding some honey or yogurt to get that shiny glow. You can also infuse rose petals for a luxurious soak. 

Calendula: This versatile flower has been around and healing cuts and scrapes from a long time with its anti-inflammatory properties. You can see this flower as an ingredient in a lot of skin care products as balms and salves. It is gentle on skin and is used even for babies. 

Lavender: Famous for its delicate scent and healing properties, Lavender has made its mark in the beauty and food industry alike. It has been used as an essential oil in diffuser to relax and calm your senses, or as a tea.
Aloe Vera: We have been an ardent fan and admirer of this hardy plant. No skincare garden would be complete without an Aloe plant. The sticky gel is a wonder balm for sun burns, cooking burns, cuts and if ingested, it works great for your body as well.(Make sure the variety is edible before ingesting).All you need to do is break off a piece and place it on the burnt area for cooling. 

Lemon Balm: The bright lemony scent and the skin care benefits of Lemon balm has made it one of the expensive essential oils in the market. It not only acts as an astringent but also tightens skin and also helps cold sores.
While the list is endless as nature has innumerable health and beauty benefits to offer, only if we have time to look. We suggest to start with these and slowly keep adding to enjoy the benefits nature has to offer. Also, if you have any other herbs or plants, you might want to check if they have anything to offer in your beauty box.