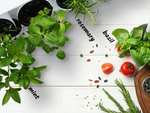 How to Keep your Garden going this Winter
As if the Covid lockdown wasn't enough, now it's the winters that is keeping us indoors too- even from our garden. Well it might be that we can't grow outdoors anymore but our gardening season does not have to be over.
It can get gloomy and depressing as the snow blankets our surroundings but let the Christmas cheer continue with indoor gardening!! The ultimate solution to keep your greens going without a halt in your fresh produce.
But will the veggies grow indoors as they do outdoors? With a little love and care, yes. If you have limited space but want to grow your greens, you certainly can. Just find a nice sunny spot. But let's figure out which ones can actually be grown indoors and will yield produce.
Herbs: Easiest to grow indoors are Oregano, Sage, Mint, Rosemary, Dill, Basil. While mint can tolerate shade, it might need a few hours of sunlight. Basil and Dill are the one that will need a lot of sun and warm temperature. If the temperatures are above 65 degrees at night then you are good to go.
Usually, the plants that are used for their leaves like herbs, microgreens, salad greens etc. tend to do better indoors than the ones producing fruit.
Vegetables: You can grow cherry tomatoes, carrots, peppers, salad greens, garlic, potatoes, broccoli, beets, citrus plants.
While these can be grown indoors, you might need a grow light to give them enough light as the days are shorter and sun is not our best companion in this weather. A grow light might come in handy for these plants. Especially if you are growing tomatoes and peppers.
Edible Flowers: A beautiful way to decorate your home and dinner plates. Growing edible flowers like lavender, dandelions, calendula, nasturtiums. Keep them near a windowsill to get as much sunlight.
Growing an indoor vegetable garden can feel like an overwhelming task sometimes. So, the best way to do it is start small and grow as you go along. Starting with salad greens and herbs is a good idea as they are easier to manage. Getting a grow light is a good idea as it helps in growing indoor vegetables. Get your garden growing and enjoy your greens and inspire others with your growing skills.