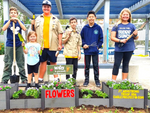 Covid Gardening with Kids
This year has been a roller coaster world over. Covid slowly changed everyone's normal and while the lockdowns have been difficult for everyone, it must be a little extra frustrating for our young ones. Staying in can have an adverse effect on their young minds without social interaction and playtime with peers or going to school. 
In these times, gardening is a great way to help your child get some fresh air and much needed activity. Whether it is a small apartment patio or a backyard, starting a garden does not need much space and is a fun activity for your all ages. Let's see how we can help these little energy balls to enjoy this activity.
Start with their favorite greens/ flowers - It doesn't matter whether it is a food group or just a pretty flower, getting them interested and curious is the first step. Get their favorite plant seeds and help them set up with a start up kit for kids and a container planter. Watex Countertop Garden can be a great way to give them a start for their mini garden. They can start their small garden and with the cold season on brink, we can also start thinking of helping them grow indoors. Mobile Green Wall is another great option with a garden on wheels and they can roll it around with ease enjoying their mobile vertical garden. Kids love this one. 
A tip to keep in mind: They might want to grow multiple things at once and watch them all grow all at once. Help them with starting small and easy to grow plants so that it does not lead to any garden disappointments at the beginning. 
Garden kit for kids:

It not only makes the activity fun for them to have their own kit but also safety appropriate to operate garden accessories. Keep them away from garden fertilizers and always stay with them if teaching them about using them with caution. 
Garden design: Whether you are as new as them into this activity or a seasoned gardener sharing your garden space with them, you have to let them get a little creative to enjoy the process. Allow and encourage them to design their patch with plant companions, trellis etc, Who knows, you might learn a thing or two as well with the young ideas. This Watex Garden Bed might be a good idea if they want their personal patch. 
Learning responsibility and growing immunity: Gardening is a great way to learn so many things apart from growing plants. It teaches them patience while waiting for their seed to sprout and then turn into a plant. It teaches them to accept failures and rise from them stronger and work harder towards betterment. Moreso, it gives them something we are trying so hard to boost these days in our body- the much needed immunity. Working with soil and getting their hands in dirt helps with boosting their immunity. So let them get messy. 
Remember to always supervise the younger ones and keep an eye on the not so young ones. In these testing times, let gardening become the way they can unwind and relax along with you without worrying about the outside world and future. You might just unleash an avid gardener in your child. Who would hate that?