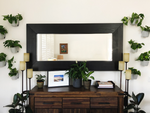 New Addition : Self watering Individual planters
Happy New Year to all of you lovely people! With the beginning of this year, we have some new planters for you, adding to the list. Last week, we shared an Elevated Mobile Planter with you and we have something else this week as well.
While we love our Mobile Green Walls and Garden Beds, we thought, why not let you be the artist of your space and let you have some fun arranging a green wall of your own. The individual self-watering planters will let you do just that.
Multiple sizes: The self-watering planters are perfect for indoor or outdoor for you to deck up the empty walls or liven up a dull corner. Pick up as many or as little as you like. Make different wall designs and be your own garden Picasso with these different sized planters of small, medium and large.  
Colors: For now, it comes in lovely shades of cool gray, classic black and green. So, you can play with multiple colors or just one and do you thing.We might have some more colors coming in future for you as well.
No leak: The planter comes with a drainage plug in the bottom, so if you feel you have shown too much love to your plants with extra hydration, all you need to do is pick up your planter, take it out and pull the plug for all that extra water to drain. Ideal for creating a wall indoor as well.
Comes with a hanging panel: So, you wonder how do we hang these planters? Well, these planters come with an individual panel for each planter or for multiple ones as well, depending on the kit you choose. Just fix that panel on the wall and you can hang the planter with the lip on the back.
No more space issues or to create a green space. The small planters will help you create your vertical garden in minutes and get your creative gardening juices flowing. Perfect for all seasons and any location.