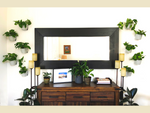 Add Color to your Indoors Naturally, this Season!
It's October and you can feel it in the air. The crisp evening breeze is starting to make its presence felt. It's time to start decking up your homes with the festive décor of the season. The winter season can make things look dull and drab sometimes with the halt on the growing season and no greenery and sun around but we have some green solutions for your green décor to pep up the indoors!
Also, since the outdoor activities come to a halt and we don't stay out in the fresh air for long, it is a good idea to get nature indoors.
Check out the list of houseplants that can survive the chill of indoors as well and even give you beautiful blooms with good care.
1.) Cyclamen: This gorgeous hardy houseplant shows off its winter flowers in a beautiful pink and peachy shades. This resilient plant with thick leathery leaves blooms delicate flowers all winter long. You will start to see them around early fall and throughout winters. Keep them in a bright spot with a cool temperature. It's a good idea to keep them in an unheated room. This gorgeous plant is an investment worth every penny as it will come back year after year. Place them is shaded spot cool spot in summer as they will go dormant and revive them in fall by watering and move to a bright spot.
2.) Snake Plant: This beautiful vertical growing indoor beauty is perfect for those who want to add some greenery in their homes but are forgetful or have brown thumbs. This resilient beauty almost never needs water and still looks fresh. But keep it near a bright spot as it needs light to survive and you will be good to go. Snake plant doesn't just make your home pretty but also helps keep the air indoors clean from toxins like Benzene and Formaldehyde. What's not to love?!
3.) Bromeliads: Splash some warm color to your home with this lovely plant. Doesn't need light and only needs water when it looks completely dry. So, decorate your low light areas in the house with this gorgeous beauty like Bathrooms.
4.) Holiday Cactus: The name itself adds some festive feels in the air. These are not your flowerless desert cactus but will give you glorious blooms. Place these beauties near a bright window and while they prefer cooler temperatures (Below 70 Degree F) for a generous blooming, they will be ok at normal temperatures as well. Don't overwater the plants as you risk root rot. After they bloom water only when the soil is dry to touch.
5.) Clivia: Another one for those low light rooms with cooler temperatures. The cooler temperatures help the beautiful blooms in orange tones. This beauty can bring life to a dull room. Another benefit to enjoy is you don't need to water it every day as it enjoys to be kept on the drier side.
6.) Wax Plant: You don't have to worry about your heated rooms being dull. There is this beautiful yellow and green leafy beauty to brighten up your rooms. Also known as Hoya, this plant can take your forgetful behavior as it can take no watering. It's succulent parts store water in them and thick leaves take hot temperatures well.
The options are endless but these few beauties in the list can get you started for all kinds of temperatures and lighting situations and get going for the season. Now all you need to do is head to the nursery and get these babies in to your home and make your fall and winter décor colorful and green.