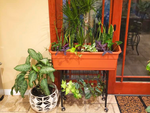 Steps to a Sustainable Urban Garden
If you are living in an urban neighborhood or a space with limited gardening space, don't let that trivial issue stop you from having your own garden. Urban gardening has taken over the garden lovers' world. You do not need acres of land to have a garden, a patio or a balcony is enough to get your veggie and herb garden going.
Whether you are a rookie gardener or an expert, we have some tips for you that can help you get a start on your sustainable urban garden.
1.) Space and location: The first thing to check out to start a garden is where. If you have a small patio or a balcony, the easiest bet is to have a container garden. Map out your patio area and see how you can utilize the space without cluttering it. Using raised garden beds, vertical planters like green walls, mobile gardens will help keep your patio clean and accessible. Find modular planters that give you the ease and benefits of gardening without compromising on the quality of your garden.
2.) What to grow: Find the right balance between what grows well in your region and what you and your family like to eat. Also, it is important to keep in mind to not complicate things by growing difficult to grow vegetables and overwhelm yourself. Start with easy fruits, veggies, herbs that you will enjoy.
3.) Soil: As easy as it may sound to just pick up a bag of soil and dump it in the containers to plant your greens, it is more than that. You need to find the right kind of soil, that has nutrients that work better for container gardens. The right soil mix is equally important to growing your garden as the right plants. It is always a good idea to go with organic soil mixes to avoid any chemicals or pesticides that may hamper the quality and growth of your greens.
4.) Light: If you do everything right in all the other areas but do not have sufficient sunlight for your plants, all of that hard work might go to waste. All the plants need a certain amount of sunlight to grow. Figure out how much light your growing location gets and you can decide on your plants accordingly as well. 
5.) Fertilizer:  After all is done and ready, you don't want all the work going dead. Container gardens need regular nutrition since they are in a boxed environment and need their boost to grow healthy greens. Being a sustainable gardener involves caring for your environment as well. So try to keep the toxic chemicals out of your garden and get organic natural fertilizers that are safe you and your garden.
While these might not be foolproof tips for you to get a sure shot urban garden but they will surely give you a basic guide to make your own mistakes and learn from them. Every garden mistake is a miracle waiting to happen.