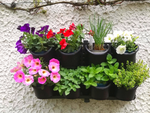 Fall in Love with Colors this Season!
It's a common thought that flowers are a spring and summer time garden favorite but that's not true at all. Just because the sun is shining less doesn't mean your garden has to lose the color and shine too. If you plant the seeds at the right time, your garden will have flood of colors and blooms through the crisp fall into winters. You could be creating your own beautiful centerpieces for the festive season from your garden! Let's take a look at the list of beautiful flowers that you can grow in fall.
1.) Chrysanthemums: One of the classic fall beauties, you can find these lovely flowers all around in your nurseries or garden centers from late August through November. Grow them in indirect light at a bright spot and water regularly. Clip the buds as they wilt to keep them blooming. You can choose from an array of color to suit your décor like white, yellow, gold, pink, orange, deep red, maroon, purple and more.
 2.) Pansies: These delicate looking beautiful flowers are happy in winters. The good time to plant them would be around this time and they'll bloom till the frost. New varieties like Ice pansy can even withstand a mild snow. If you care for them, Pansies will show you their happy faces again in Spring until weather heats up in June. Water them when the top layer of soil starts to feel dry. In warmer weather though, they might need watering twice a day.
 3.) Cosmos: These cheery little blooms are a delight to have in your home and garden. You will never have an empty vase at home with these pretty things blasting colors in your garden. A cousin of daisy and marigold, these beauties reseed and due to its ability to survive in hot, dry conditions with average soil, they have a long growing season and stay well into autumn garden. They love sun and a moderate amount of water.
4.) Sunflowers: Even though Sunflowers are happy in full sun and grow well in summers and it may be end of summer but you can still plant them now and enjoy them in fall. The beautiful golden colors can be enjoyed till the end of October and may be longer in tropical and mild winter climates where sun shines more than other places. 
5.) Sweet Alyssum: This beautiful low growing fragrant beauty is perfect for your borders as it creeps on the ground creating a lush colorful carpet of color. To germinate them, keep the soil evenly moist and they will germinate within one week. Grow them in groups to create a carpet effect. You can also create a waterfall effect by growing them in containers as they spill over the edges. This lovely plant tolerates cool weather well and can bloom all fall and mild winter areas.
 6.) Flowering Kale: If you need something sturdy to add some ornamental green foliage to the colors in your garden, then flowering kale is perfect for you. One of the toughest plants for fall, this lovely green flowering cabbage stays well in frosty temperatures as well in mild winter areas. Their ruffles feathery looks feature colors like purple, rose and creamy white making them look like large flowers.
While these are just a few of our favorite fall flowers, there is a long list of beautiful flowers you can add to your fall garden to create a colorful garden. Grow these beauties in Watex Planters to keep them Mobile and portable for when harsh winters can play havoc on your delicate blooms.