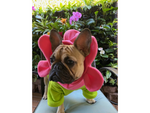 Planters you need for your Spring Garden
Spring is almost here! All that pent-up energy in the dormant winter months, will finally have a way out and your garden is ready to get all activity as well. While the preps are in full gear and you are deciding on the new planters to add to your collection, we want to share with you the versatile Watex planters that will make your gardening easy, fun and your space prettier. 
These are just a few to get you going for the Spring season, there are more options for you to choose from in our collection. We think these will give any gardener the ease and a head start to get into the gardening mode.